1. Common problems and solutions
If your subscription does not work (for example, if you have deleted the app or changed your phone)

Check your internet connection
Cellular data ("Data") must be enabled for iziTime
In-app purchases (iap) must be allowed
Menu > Settings > Restore purchases

Delete all ads:

Go to Menu > Settings > Options > Standard or full versions without ads

If Dropbox connection does not work:

You must have an active Dropbox account
Check your internet connection
Check that cellular data ("Data") is enabled for iziTime and your internet browser
Menu > Settings > Dropbox connect
2. How to calculate working hours with iziTime ?
To save your working hours, launch iziTime app then click on your schedule.
Click on a cell then choose your arrival time, departure time, and your number of unpaid breaks.
The effective working time is automatically calculated.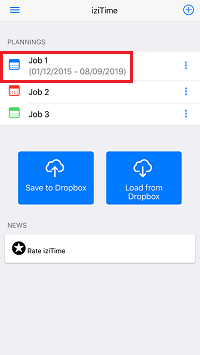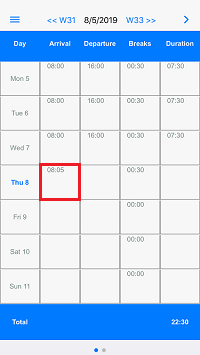 3. How to add comments for each day ?
Touch the blue bar, then slide screen to left to access to comments screen.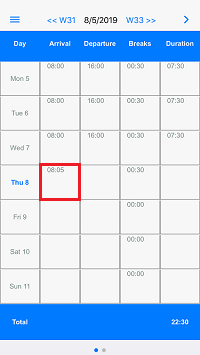 4. How to make hourly work time automatically ?
Push the action button (top right) to save time:
Copy last week hours
Copy hours from a predefined template (ex: morning week, night week…)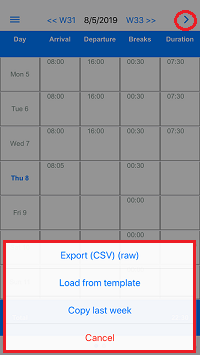 5. How to customize my planners ?
Hours input screen is customizable, (Planning > Menu > Settings), up to two shifts per day (office hours, catering work…), overtime management and pay rate (coefficient) (for example, day paid 70% or 120%…).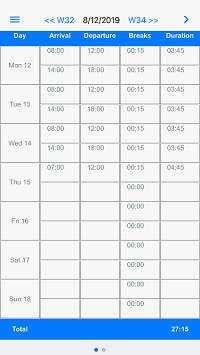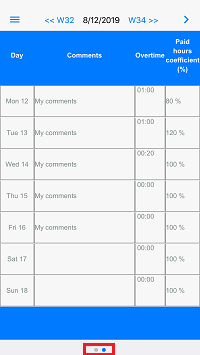 6. How to print my PDF timesheet ?
Click Menu then Reports to see timesheets. Push the top right button to save/export/print your PDF timesheet or to export data to a spreadsheet like Microsoft Excel, Numbers or Google Sheets:
Week timesheet (with or without comments)
Month timesheet (with or without comments)
Year timesheet (number of hours done by month)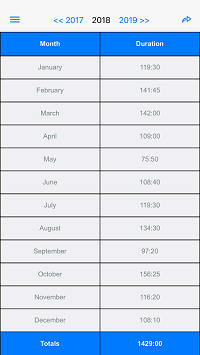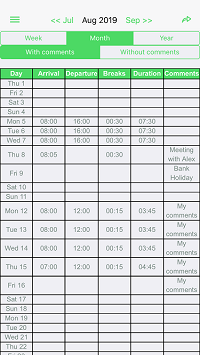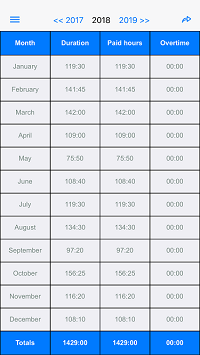 * Go to planning settings to show/hide "Overtime" and Pay rate/Coefficient columns.
7. How to create a work hours template ?
Define templates and models to save time when filling time table, go to Menu > Templates > Add button (top right).
Then you can auto-fill your planning each week.
Use cases:
Shifted work: Morning shift, afternook, evening, night…
Alternate weeks: number 1, 2…
Number of breaks each day
Holiday week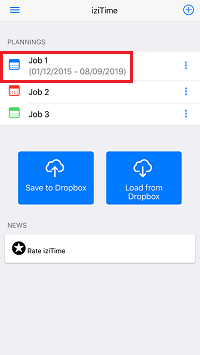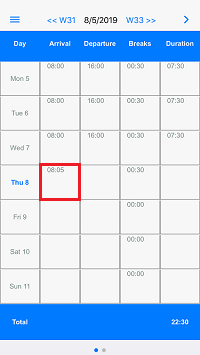 8. How to synchronize iziTime with Dropbox
We advise to regularly back up your schedules on Dropbox. It's simple, push "Load from Dropbox" and "Save to Backup".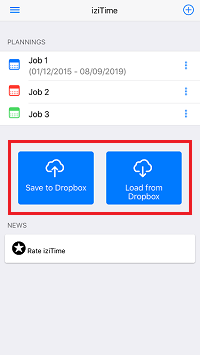 9. How to manage multiple plannings
You can create new plannings, for example one per job or activity. Go to Plannings then click "+" button (top right).